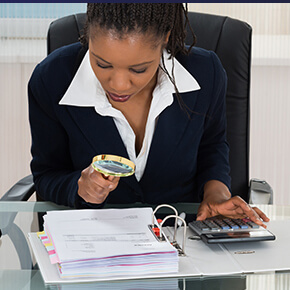 Active vs. Passive Fraud Detection
8.8.19
When it comes to reducing fraud loss and duration, active detection methods (such as surprise audits or data monitoring) are far more effective than passive methods (such as confessions or notification by police). This was a major finding of the latest Association of Certified Fraud Examiners (ACFE) Report to the Nations: 2018 Global Study on Occupational Fraud and Abuse. Yet many companies fail to use active methods to their full potential.
Active vs. Passive Detection
The ACFE study found that frauds detected using passive methods tend to last longer and produce larger losses than those detected by such active methods as:
IT controls,
Data monitoring and analysis,
Account reconciliation,
Internal audit,
Surprise audits,
Management review, and
Document examination.
These active methods of detection can significantly lower fraud durations and losses. For example, frauds detected by IT controls had a median duration of five months and a median loss of $39,000. By comparison, fraud detected through notification by police had a median duration of 24 months and a median loss of $935,000.
Surprise audits and proactive data monitoring and analysis can be especially effective ways to fight fraud. On average, victim-organizations without these antifraud controls in place reported more than double the fraud losses and their frauds lasted more than twice as long as victim-organizations with these controls in place. Yet only 37% of the organizations in the ACFE study had implemented surprise audits or data monitoring and analysis, however.
Close-up on Tips
The ACFE categorized tips — the leading fraud detection method — as "potentially active or passive," because they may or may not involve proactive efforts designed to identify fraud. Organizations that use hotlines for reporting misconduct detected fraud by tips more often (46% of cases) than those without hotlines (30% of cases).
More than half of tips came from employees, but nearly one-third came from outside parties, such as customers and vendors. To ensure that tips are used as an active detection method, an organization should set up a hotline and promote its use among employees, supply chain partners and others. If possible, users should be able to make anonymous reports.
Don't Wait for Fraud to Find You
Occupational fraud poses a significant threat to organizations of every type and size. Waiting to react until fraud rears its head can result in serious financial losses. Instead, adopt active detection methods that can be deployed continually. Contact us for help.