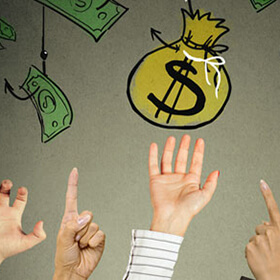 Be Careful When Applying for a Small Business Administration Loan
1.30.20
A Small Business Administration (SBA) loan can make big things happen for your small company. But the agency's loan program is sometimes abused by con artists who know that many small business owners have little experience applying for financing and are, therefore, vulnerable to scams. Here's what you should know.
Background on SBA Products
The SBA provides various financing options with favorable terms and greater flexibility to small businesses and start-ups. It doesn't disburse loans directly but gives lenders federal guarantees and backing to reduce lending risk. Individual businesses must themselves make arrangements with financial institutions that make loans.
Three key SBA programs are:
1. SBA 7(a) loans. This is the flagship product. It typically frees up working capital needed to acquire equipment, real estate or inventory.
2. Microloans. This program is more targeted. Smaller amounts are disbursed quickly to address short-term needs.
3. SBA 504 loans. This program is commonly used for commercial real estate purposes, such as the cost of buildings, land, equipment and renovations.
Look for Red Flags
If you're applying for one of these types of loans, how can you avoid becoming a fraud victim? The government warns small business owners to be wary of companies offering to help them secure money from an SBA program. In particular, watch out for services that charge exorbitant fees or that guarantee you'll get a loan if you work with them. In general, legitimate services don't charge upfront fees to broker loans, perform credit checks or "process" applications. So if you're asked to pay, walk away.
Fraud perpetrators also might claim that your business will be issued a forfeiture letter making it ineligible for any SBA funding if you don't use their services. High-pressure sales tactics, such as threats or limited-time offers, are reliable indicators that you're dealing with a fraudster. One way to verify suspicious claims is to call the SBA yourself.
Other bad actors may not ask for money at all. They're simply after personal information that will enable them to steal your identity or access financial accounts. Don't provide your Social Security number, bank account information or credit card information to any unsolicited caller or emailer.
Choose Assistance Carefully
Of course, many reputable businesses help companies apply for SBA loans — and they can make the process easier. But be sure to investigate the reputation of any business that contacts you. Better yet, ask trusted advisors or other small business owners for referrals.