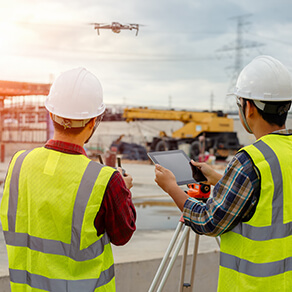 Benefits of Robust Onboarding for Construction Companies
8.26.21
Searching for qualified candidates can prove difficult. Yet, retention of good employees poses a greater challenge. Fortunately, a strong onboarding program for new employees can help.
Small to midsize construction companies have traditionally de-emphasized onboarding; either they maintain a rudimentary program, or they simply have no program at all. This is particularly problematic in the construction field, since many workers are recent trade school graduates who transition right into an employment opportunity. Consequently, they may show up on day one and begin working their jobs without meeting owners, managers and co-workers beyond their direct supervisor. Oftentimes, the necessary paperwork doesn't get filled out until later in the day (sometimes even days afterward), and they aren't given an adequate introduction to the company, its scope of work and its policies, procedures and mandates. They may not even know where restrooms, vending machines, copiers and office supplies are located.
Just as important, every employee – new and established – deserves to know what the company expects of them – quantitatively and qualitatively – and they want to know what will make them successful.
A robust onboarding program addresses these issues and more. The benefits are real and can help your construction company prosper:
Setting expectations up front with regard to policies, procedures and company mandates formalizes a new employee's understanding of how your business operates, and how all employees are expected to act, communicate and work within that environment. This helps to prevent situations that could lead to miscommunication, inefficiencies, inappropriate behavior—even workplace accidents.
Having formal onboarding procedures in place also protects construction firms from posing inappropriate, or even illegal, questions to new employees, which can head off potential litigation. Federal employment guidelines are specific with regard to privacy issues, and what can and can't be discussed with employees. This is not an area in which constructions firms should improvise.
Making new employees feel welcome and truly part of the team builds a strong connection with your company. They'll gain a sense that they're part of something larger than just working a job and earning a paycheck. We've seen firsthand just how much new employees appreciate the investment of time, resources and energy that their new employer has made in them.
So, what are some "must-haves" in a robust construction company onboarding program?
Reviewing key information in your company's employee handbook on the first day of employment. This includes company mandates (e.g., smoking policy, uniform requirements, hours of operation, vehicle policies and more), as well as required disclosures and other critical information new employees need to know on day one.
Every construction company, regardless of size, should have an employee handbook, and it should be inclusive of everything your employees need to know about working in your company. If you don't have one, or you feel your current handbook is lacking, we recommend consulting with experienced human resources professionals.
Facilitating an immediate connection with at least one key leader of the company. That individual (or individuals) should provide an introduction to the types of clients your company serves, the types of projects it works on and more. Again, many new hires in the construction field come directly from trade or vocational schools, high schools or the general labor pool; they may not be familiar with your company and its scope of operations. Your company leaders are best positioned to provide this information—and connecting them with new employees goes a long way toward building bonds of familiarity and ultimately, trust.
Providing adequate time up front to observe, train and learn before launching into daily job duties. Match new employees with a colleague or mentor so that they have someone who they can learn from in the context of their work environment. This helps them gain valuable confidence about the requirements of their job when they begin.
Finally, for new employees that will be working remotely or at construction sites, it's imperative that you provide them with a specific address for the site at which they're needed; that you make sure someone from the company is there waiting for them when they arrive; and that there is an appropriate uniform for them on site.
A strong onboarding program can help construction companies retain workers and attract new ones. It shouldn't be treated solely as a walk-through of safety procedures, but more as personal development for your employees. Onboarding is a long-term commitment for the worker and company and for construction companies that make the effort, their investment in time and money will be well worth it.