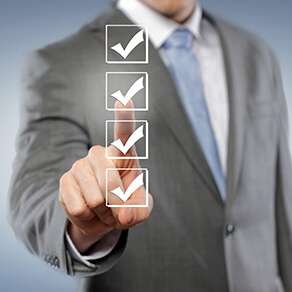 Business Valuation Checklist
9.11.20
Business owners should always operate from a position of strength. That's why having at least a baseline business valuation is important. The simple truth is that things happen even when we don't plan for them — an unexpected buyout offer or an illness, for example. Deciding to have a business valuation is a proactive step that can prove quite useful as you plan for your business's future.
Once you've decided to have your business valued, you need to prepare for the process. The following checklist provides a guideline for the information you will need. Remember that the goals of the valuation are to evaluate the company's past performance as well as its projected future performance.
Financial Information
You will need to compile financial information for the following:
Last three to five years profit and loss statements
Last three to five years balance sheets
List of all liabilities, including outstanding loans and payoff information, creditors and contingent liabilities (e.g., pending lawsuits, environmental liabilities).
Profit and cash flow projections
Balances in all company bank accounts, including trust accounts
Leases (e.g., property, equipment)
Tax issues
Company Information
In addition, you will need the following company information:
Ownership information, including date company was formed, type of entity, number of shares owned by each owner and who has a controlling interest
Information about family members working for the company, including role, compensation and fringe benefits
Information about company management, including confidentiality and nondisclosure agreements, key man insurance and employment contracts
Average number of employees for the past three to five years along with their roles (e.g., sales, service, clerical)
Tangible assets (e.g., inventory, real estate owned, equipment owned)
Intangible assets, including legal rights, licensing agreements, nondisclosure agreements and other contractual obligations
Locations
Market Information
You also will gather essential market information:
Company's current market share
List of competitors and their estimated market share
Product differentiators
Size of market
Pricing strategy
Barriers to market expansion
Information Analysis
For information analysis, you will need the following:
Profit margins
Business stability
This checklist provides an outline of the information you'll need to obtain a clear picture of your business. Working with a business valuation specialist, you may find that additional information is needed to flesh out more details. At the very least, you'll have a road map for what needs to happen to increase the value of your business.
To obtain additional information, contact one of our business valuation experts.