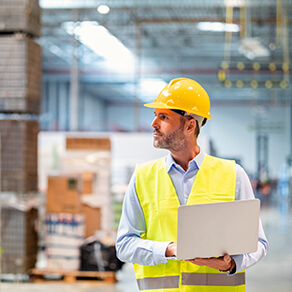 How to Reduce Negative Effects from Poor Manufacturing Inventory Management Processes
11.24.21
Your manufacturing company's lifeblood is often focused strongly on supply chain management. Imagine, if you will, going through a drive-thru at a fast-food restaurant and having the server tell you that a particular food was backordered and wouldn't be available for many weeks. Not only would that sale probably be lost, but future business would be placed in peril due to the long wait. This type of interaction would impact your trust in that company to deliver what they promised in a timely manner. Next time you drive through the area, you'd probably frequent a different establishment for your needs.
Your customer base is similar to that of the drive-thru customer. They expect that you'll have what they need when they need it. Failing to meet that need can seriously shake their faith in your company's ability, and may cost you their business down the road. To help mitigate these types of issues, you need processes in place to help reduce any bad effects that can happen when you have issues with poor manufacturing inventory management.
With situations such as those mentioned above, it's no surprise that poor manufacturing inventory management processes can be among the main reasons why these types of businesses fail. If you're in manufacturing, you already know about the fine line between having too much stock and risking being stuck with it, or too little stock and risking losing customers over poor fulfillment. Because the perfect inventory level is often a moving target, it can be difficult to impossible to predict, as demand can fluctuate wildly due to a wide range of reasons.
When your company is not able to immediately fill orders due to an out-of-stock item, it's fairly common for the customer to use another company to meet their needs. That puts your company at risk of losing that customer to the other company for future purchases. For this reason, it's vital that you keep sufficient stock of your products because your brand is how you stand out in the world. You don't want to get a reputation for being a business that even occasionally runs short of stock, much less on a regular basis.
Once a customer has gone elsewhere to have their order filled, they'll rarely go back, especially if the other company offers competitive pricing and decent customer service. That's a trend that will continue until they have a reason to go elsewhere. Because customers tend to be loyal to brands that can meet their needs, backorder issues in your supply chain cause you to lose a promising source of regular business for your company. This can have a significantly negative impact on your company, your sales, your revenue and your business' reputation.
Unfortunately, simply having an abundance of stock on hand for all possible orders doesn't solve the issue either. Inventory that doesn't sell ties up money that you could put to better use in your cash flow. It takes up warehouse and production space that could be better used. If inventory has a limited lifespan, whether because of spoilage, changes in trends, becoming obsolete or degradation of materials, you'll also face losses as it ages. For this reason, it's vital that your company determines inventory points with very close precision so that you can avoid both under- and over-stocking by using an inventory management process.
With a goal to keep optimal inventory levels through effective forecasting of demand, you'll need both historical data as well as external trend forecasts. To accomplish this, a solid inventory management system is needed to operate from portable devices with pervasive communications. Among these options are a range of Enterprise Resource Planning solutions that allow you to optimize IT, accounting, order management and procurement while eliminating manual reporting systems and improving employee productivity.
As our world moves forward into digital transformation, progressive technology, operational efficiency, big data and competitive business approaches can help you stay ahead of the pack.
Contact us if you have any questions or need help establishing new business processes for your manufacturing company.