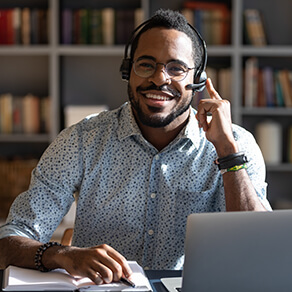 Is Remote Selling the New Normal? Tips to Make the Most of Your Sales Program
6.16.21
The COVID-19 pandemic impacted the way people interact and do business. Many of the changes that were made to adapt to a social-distancing environment within the digital landscape are likely to become permanent and evolve over time. Though pre-COVID-19 digital trends were already surfacing as a basis for contemporary selling, many experts agree that the pandemic has presented a rapid acceleration of pragmatically alternative sales mechanisms.
As this transformation continues, manufacturers should review their selling processes and consider adjustments that will help them adapt, embrace and grow with the "new normal." This article reviews some tips to make the most of a remote sales program.
A Shifting Landscape
In recent years, the world of business-to-consumer (B2C) sales has fully embraced e-commerce and digital sales. In the business-to-business (B2B) environment, the move toward digital has been more measured and traditional, relying on physical client contact. Since the pandemic has virtually eliminated in-person interactions, businesses were forced to adapt quickly. Interestingly, the byproduct of effectively dealing with the crisis is that it created sort of an involuntary experiment in remote work. Many businesses that were previously reluctant to allow teleworking and remote selling have learned that it can be highly effective. For many, their feared sales losses from abuses, impersonalization and lost productivity have not materialized.
Recently, McKinsey & Company conducted a survey of B2B businesses in 11 countries, which included a variety of sectors and industries. The findings indicate that COVID-19 has accelerated several existing trends, including omnichannel selling, inside sales, tech-enabled selling and e-commerce. The survey also indicated that during the height of the pandemic, around 90% of sales moved to a "videoconferencing (VC)/phone/web sales model," and that around half of the respondents (60% in the U.S.) feel that this model is equally or more effective than pre-COVID-19 sales models.
A Few Tips
So how can manufacturers maximize what we have learned so far in 2020? The following are some tips for implementing remote selling effectively. 
Keep Your Eye on the Target
Even in extraordinary times, your selling efforts should be targeted. For example, it is far easier to sell to existing customers who are already familiar with your products and with whom you have an established relationship.  In the current environment, it is even more critical to concentrate first on existing customers while taking care to systematically include new well-researched customers in your mix. Reach out with empathic messaging and news about your developments, such as mobile apps and interactive demonstrations that businesses now consider important in researching products. Research your sales base and focus efforts on industries and businesses that are actually experiencing level or upward shifting sales models during the storm.
Revitalize your sales force. Bringing your B2B sales into the digital world will increasingly enable emerging technologies, facilitating the flexibility of your organization.  Explore venues available through social media that will allow you to express your passion for your product while illuminating key benefits to a focused need.  Revisit your existing product mix and customer approach, virtually shifting target customers to specific models.
Leverage Technology
For remote selling to be effective, it is important to research and implement video chat and virtual meeting solutions that work for you. But it is also critical to understand the technology's limitations. Even with the best technology, it is difficult for salespeople to pick up on body language and other visual cues that are more readily apparent in a face-to-face meeting. That is why many experts recommend that your remote selling efforts focus, at least initially, on building relationships rather than closing sales.  As connections develop, build a workable metric that will personalize and maintain key social aspects of a customer profile.
In addition to video, consider other types of technology that can enhance or support the sales process. For example, software platforms that enable you to create customized, interactive, visually appealing presentations can help you meet some of the challenges surrounding remote sales. And salespeople can use brandable "microsites" to share documentation and other information with existing and prospective customers, monitor customers' activities on these sites and appropriately tailor their follow-up.
Cater to and acknowledge different customer preferences.  It is a good idea to start with a variety of communication platforms, such as email, messaging apps, videoconferencing and live chat. Let the customer dictate how the information will flow.
Create Outstanding Experiences
Customers increasingly prefer the convenience and comfort of self-service and digital interactions. So, it is important for manufacturers to ensure that customers' experiences with these interactions are positive and easy to use.
According to a 2019 McKinsey survey, suppliers that offer "outstanding digital experiences" are more than twice as likely to be selected as those that provide poor experiences and 70% more likely to be selected than those providing fair experiences. According to the survey, buyers value speed, transparency and expertise, noting that features like live chat can deliver all three.
Transforming Your Sales Function
The lasting impact of COVID-19 is not yet clear, but remote sales will play an increasingly significant role in the future. To stay competitive, manufacturers will need to incorporate and enhance remote selling techniques and technology in their sales arsenals.