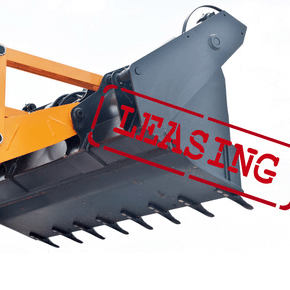 The Essentials of Equipment Leasing for Construction Companies
3.4.19
Many construction company owners spend considerable time analyzing ways to improve their organization's cash flow to help with day-to-day operations and to grow their business.
One method to improve your construction business's cash flow is to lease necessary equipment rather than buying it outright. This method not only saves an initial outlay for the entire cost of the equipment, but also spreads out payments over a predetermined time frame with a built-in interest cost.
How Does Equipment Leasing Work? 
At its most basic, an equipment lease is a contract between your company, the lessee, and the financing company, or lessor. The financing company could be a bank, a leasing company, or an equipment manufacturer. The contract commits the construction company to make monthly payments over a period of time for the use of the equipment. It also may include an option for the company to buy the equipment, for a predetermined price, at the end of the lease. Some leasing companies may require a personal guarantee of the lease by the owner of the business.
The amount of the monthly lease payment is based on the following:
The purchase price of the equipment
An interest rate built into the payments
Term of the lease
Creditworthiness of the lessee
Estimated residual value of the equipment at the end of the lease
Often, a down payment on the lease also is required. During the lease period, your construction company will be responsible for maintaining and insuring the equipment. At the end of the lease, depending on the terms, the lessee may buy the equipment or just let the lessor take it back.
What Are The Benefits of Leasing Equipment?
Your construction company could benefit from the following:
The initial down payment will be less than the total cost of the equipment. This immediately reduces cash outflow.
Lease payments can be a tax-deductible business expense. If you own the equipment, it would depreciate annually.
The lease approval process is generally quick.
There may be less paperwork than what it would take to get a business loan.
If the lessor is also the equipment vendor, the lease may have a lower interest rate built into it than what would be used by an independent leasing company.
An option to purchase at the end of the lease gives your construction company an opportunity to own the equipment. Because this is not an obligation, you reduce your risk of owning a piece of obsolete equipment.
In evaluating whether to buy or lease equipment, make sure to weigh the benefit of improved current cash flow against the long-term cost, including the interest rate, built into the lease. If leasing makes sense for you, this method of financing can be a great way to grow your construction business.