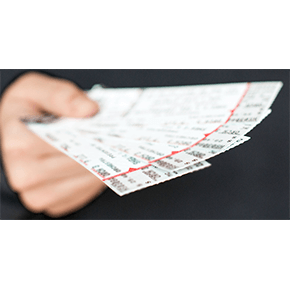 Ticket Scams: When the Price of Admission Is Too High
2.19.19
Concert, sporting and other event tickets can go for astronomical prices — when they're even available. Hoping to find reasonably priced tickets (or to find tickets at all), many consumers turn to the online resale market. But while most resale transactions are legitimate, some involve ticket scams. Buy from one of these sellers and you may end up with stolen or counterfeit tickets.
Playing Defense
Ticket scams generally succeed because they exploit a common desire to bag a bargain or gain access to something that isn't easily obtainable. But you can avoid getting tricked. Here's how to avoid ticket scams:
Buy direct. Whenever possible, buy first-release or secondary market tickets from the event's official ticketing agent. The ticket may cost more, but buying from a reputable agent comes with peace of mind.
Look out for crooks. Ticket scammers often use spam email and fake websites to impersonate legitimate ticketing agents. Don't click on links contained in unsolicited emails and don't buy tickets from sites until you've researched their authenticity. Plug the ticket agent's name into search engines and look at the agent's social media accounts. Pay close attention to how the agent interacts with customers and handles disputes.
Ask questions. When buying from individuals, ask them to disclose how they received the tickets and why they want to sell them. If their story sounds suspicious, look elsewhere.
Verifying and Reporting
It's only when they're turned away on game or concert day that many ticket scam victims learn they've been conned. So if you have any doubts about your tickets' legitimacy, call or present them at the venue's box office for confirmation as early as possible.
And if you've indeed been sold stolen or counterfeit tickets, notify law enforcement and report the incident to the Federal Trade Commission. You may not get your money back, but you'll help prevent criminals from fleecing other unsuspecting ticket buyers. You can protect yourself from losing money on ticket scams by buying tickets only from agents that accept credit cards. In the event of fraud, most credit card issuers will refund the cost of your tickets and pursue collection with the seller.