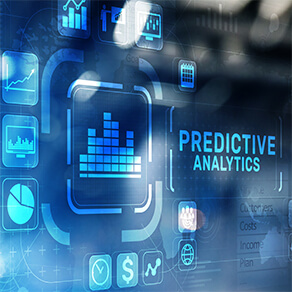 Using Data To Transform Your Manufacturing Business
4.14.22
What if you could improve product quality, increase productivity, reduce waste and minimize variability with only minor adjustments to your manufacturing process? That's the promise of advanced data analytics.
Data analytics aren't new. Businesses have always gathered data about their operations and used it to drive informed decision-making. But today's advanced technologies and cheaper computing power make it possible to quickly collect and analyze vast amounts of data from both internal and external sources. Armed with "big data," you can identify patterns, trends and correlations among various manufacturing process steps and inputs. This analysis can lead to valuable — and often unexpected — insights that you can leverage to improve your manufacturing process and boost profits.
Reducing Downtime
There's little you can do to prevent machines and equipment from breaking down or failing. But predictive maintenance systems allow you to anticipate and prepare for these events, minimizing downtime. These systems use a combination of embedded sensors, artificial intelligence and big data analytics to gather historical information on hundreds or even thousands of parameters. This helps the systems identify and monitor the factors most closely correlated with breakdowns.
By anticipating when breakdowns will occur, predictive maintenance enables you to schedule maintenance for times that have the least impact on your operations (at night, for example). You'll also be able to minimize downtime by having the necessary personnel, parts and materials on hand when you need them.
Predictive maintenance systems can reduce machine downtime by 30% to 50%, according to estimates by global management consulting firm McKinsey & Company. These systems are also estimated to increase machine life by 20% to 40%.
Eliminating Bottlenecks
Even if you've minimized or eliminated unscheduled downtime, other operating inefficiencies may be more difficult to detect. Big data analytics can reveal hidden inefficiencies and bottlenecks by examining hundreds of production parameters that affect efficiency and throughput and applying sophisticated modeling techniques.
Often, relatively simple adjustments to these parameters can help you streamline operations and maximize your output. For example, simply rearranging the plant floor or relocating often-used parts to be more accessible can help eliminate bottlenecks.
Managing the Supply Chain
The COVID-19 pandemic has demonstrated the devastating impact of supply chain disruptions. Big data analytics can provide manufacturers with greater control over their supply networks. Using data analytics allows you to monitor and analyze a wide variety of internal and external factors that affect the performance of the supply chain, including inventory levels, customer demand, economic and political factors, weather and road conditions, and supplier quality. This information helps you anticipate potential problems and formulate contingency plans to minimize their impact on your production process.
Optimizing Production
Big data analytics can help you identify opportunities to enhance productivity or yield. In many cases, these opportunities are hard to discern using conventional techniques. For example, a chemical manufacturer used advanced analytics to measure the relative impact on the yield of various production inputs, including coolant pressures, temperatures, quantity and carbon dioxide flow. The analysis uncovered some surprising relationships. Specifically, variations in levels of carbon dioxide flow caused significant declines in yield. By adjusting its production parameters in light of this information, the company was able to reduce raw material waste by 20%, lower its energy costs by 15% and improve overall yield.
Likewise, pharmaceutical manufacturers can use big data analytics to optimize production. A major challenge for these manufacturers is often the variability inherent in botanical raw materials and the manufacturing process. Relevant factors include climate, fertilization methods, harvest time, and storage conditions for raw materials, as well as variations in manufacturing processes, such as heating or adding certain chemicals. Big data analytics can be used to adjust production processes to ensure product efficacy and quality.
Leveraging the Power of Data
Data has become the world's most valuable resource, according to the international business newspaper The Economist. Manufacturers that collect and analyze data about their operations can enjoy significant improvements in productivity, efficiency and profitability. In addition to the areas discussed above, big data analytics can be used to optimize a variety of other processes, including finance and budgeting, scheduling, marketing, and customer service. Contact us for more information on how your organization can better capture and manage big data.
SIDEBAR: Is Your ERP System Obsolete?
Most manufacturers use some form of enterprise resource planning (ERP) system. These software systems help centralize and integrate the management of various interdependent business activities, such as sales, marketing, finance, human resources, customer relations, procurement and supply chain operations. By creating a centralized repository of business data, ERP systems and big data analytics can work hand-in-hand to help manufacturers optimize performance.
Because analytics are only as effective as the underlying data being analyzed, manufacturers wanting to take advantage of these techniques should ensure that their ERP systems aren't obsolete. For example, your ERP software may be due for an upgrade if it:
Doesn't provide access to real-time data,
Requires certain manual processes,
Doesn't communicate with your suppliers' and customers' systems, or
Relies on multiple platforms.
It's also important to consider whether your system is user-friendly and whether the vendor provides needed support.