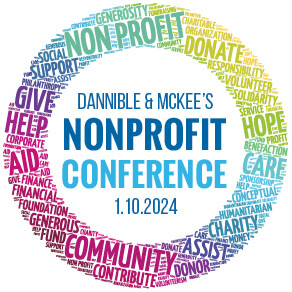 Annual Nonprofit Conference
January 10, 2024
8:30 am — 12:30 pm
Fee: Complimentary
Join us for our Annual Nonprofit Conference! This conference is designed to equip you with valuable insights into the financial and operational challenges the nonprofit industry faces. Gain knowledge and skills that will help you to manage your organization or serve on a board effectively. The conference will be held virtually, and CPE credit will be offered.

FEATURED PRESENTATIONS
Immeasurable! The Metrics of Nonprofit Boards, Volunteers and Donors
Time is money. Your time is valuable. What are the responsibilities of nonprofit boards to help their organizations be financially practical, efficient, and sustaining? In this presentation, you will learn new perspectives on what matters in the metrics of your mission.
– Elizabeth Fallon Quilter, CFRE, Nonprofit Strategist, efquilter.com

Are Your Contributions Coming From a Split-Interest Agreement?
If you are asking yourself what a split-interest agreement is, then you must attend this session! Does your organization receive yearly contributions from charitable giving sources? If the answer is yes, do you fully understand the nature of these sources? These sources might be split-interest agreements established by donors, which can significantly impact your organization's statement of financial position.
– Peggy J. Rowe, CPA, CFE, Partner, Dannible & McKee, LLP
– Angela R. Janack, CPA, Manager, Dannible & McKee, LLP
What You Should Know About Your Nonprofit Tax Filings and Compliance
During this session, we will delve deep into the process of reading and reviewing Form 990. Whether you are the executive director or a board member, there are some important tips you should be aware of. We will also cover some commonly asked questions about tax filings and maintaining compliance for your organization.
– Shannon T. Forkin, CPA, CGMA, Partner, Dannible & McKee, LLP
– Elaine S. Buffington, CPA, Partner, Dannible & McKee, LLP
Don't Get Scammed, Get Educated: How Fraudsters Attack and How You Can Protect Your Organization
With fraudsters becoming more sophisticated, it is crucial to stay up to date on the latest methods they use to gain access to your organization's sensitive information. In this session, you will gain valuable insight into the current trends in external fraud and internal controls, as well as best practices that can help safeguard your organization.
– Kaitlyn H. Axenfeld, CPA/CFF, CFE, Partner, Dannible & McKee, LLP
– Christine N. Petrone, CPB, Supervisor, Dannible & McKee, LLP
2024 Virtual Nonprofit Conference Registration Form
To register for our Annual Nonprofit Conference, please complete the form below.