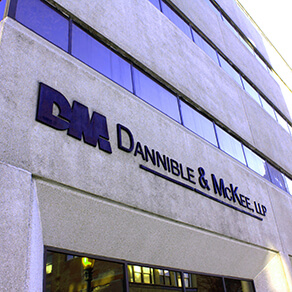 Dannible & McKee, LLP Expands Central New York Presence With the Acquisition of Buffington & Hoatland CPAS, PLLC
11.1.22
Syracuse-based accounting firm, Dannible & McKee, LLP, announced the completion of the acquisition of Buffington & Hoatland CPAs, PLLC, a CPA and consulting firm located in Auburn, New York. The acquisition took effect on November 1, 2022, and Buffington & Hoatland CPAs, PLLC will officially operate under the Dannible & McKee, LLP brand. This acquisition is part of Dannible & McKee, LLP's strategic plan to strengthen its position throughout Central New York.
Buffington & Hoatland CPAs, PLLC has provided accounting, tax and consulting services to individuals and businesses since 2009. Their expertise ranges from tax and accounting services to more in-depth services such as audits, reviews, compilations, financial and tax planning. The acquisition will add Buffington & Hoatland's seven employees, including two partners, to Dannible & McKee, LLP, and the firm will maintain its current location in Auburn, New York.
"We are very proud of the nearly 13-year history of our firm and recognized that the next step for our team and clients was to join a firm as highly respected by their clients and within the community as Dannible & McKee," said Elaine Buffington, CPA, managing partner of Buffington & Hoatland CPAs, PLLC. "We look forward to offering expanded specialized services and deep industry insights for our clients, as well as advancement opportunities for our employees."
Elaine Buffington, CPA, will continue to practice as a partner at Dannible & McKee. Buffington has over 35 years of experience in public practice. Her areas of specialization are auditing and accounting, business consulting and tax preparation. She has extensive experience with nonprofit organizations, manufacturers, wholesale distributors and retail businesses. Buffington is a member of the American Institute of Certified Public Accountants (AICPA) and the New York State Society of Certified Public Accountants (NYSCPA). She is active in the community and serves on the board of various community and nonprofit organizations.
Alice Hoatland, CPA, will continue to serve as a consulting partner. Alice has over 40 years of experience as a CPA in small business consulting and taxation. She is a member of the AICPA and the NYSCPA and has been very active in various professional and local community organizations, including the Cayuga Community Fund, Auburn Community Hospital Foundation, CCC Alumni Association and the Cayuga and Skaneateles Chambers of Commerce.
"Dannible & McKee's focus on growth is driven by our commitment to deliver the highest level of quality service to our clients while attracting and retaining bright and collaborative team members," said Christopher Didio, managing partner at Dannible & McKee, LLP. "With our mutual priority on client service excellence, the strong synergies between our businesses and a shared culture focused on team member success, we see tremendous opportunities in this partnership for both our clients and our people. We are excited to welcome the staff, clients and friends of Buffington & Hoatland CPAs to our firm."
About Dannible & McKee, LLP
Established as a partnership in 1978, Dannible & McKee, LLP is committed to providing the highest level of professional services in the areas of audit, tax, accounting and financial management consulting services to clients nationwide. The firm focuses on major industry lines and specializes in multi-state taxation review, business valuation, litigation support and fraud prevention and detection. With offices in Syracuse, Auburn, Binghamton and Schenectady, New York, the firm employs over 110 professional and support personnel, including 22 partners. Dannible & McKee was the first CPA firm in the region to join the Association of Certified Fraud Examiners (ACFE) and is a member of GGI Alliance (GGI), an international network of independent professional firms committed to providing clients with access to expanded resources and professional expertise in the international marketplace. The firm has also been recognized as one of Central New York's Best Places to Work in 2020, 2021 and 2022.