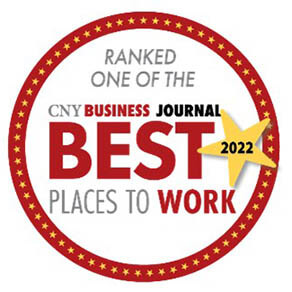 Dannible & McKee, LLP, Named One of Central New York's Best Places to Work in 2022
6.28.22
Dannible & McKee, LLP, a certified public accounting and consulting firm with offices in Syracuse, Albany and Binghamton, has been recognized as one of the Central New York Business Journal's Best Places to Work in 2022. This is the third year in a row the firm has been recognized for this prestigious honor.
Presented by BizEventz, a CNY Business Journal partner, this annual award recognizes the best places to work in Central New York, as voted on by their employees. The award is based upon a confidential survey asking for employees' feedback on job satisfaction, business culture, company benefits, leadership and more.
"We are extremely proud that our staff has voted our firm as one of the best places to work for three years in a row," said Michael J. Reilly, CPA/ABV, CVA, CFF, CDA, managing partner at Dannible & McKee, LLP. "This honor shows us that our employees feel valued and respected for the work that they do, and that is extremely important to us. Our focus on developing and supporting our team has been instrumental to our success."
Dannible & McKee is highly focused on investing in the development of powerful employees and offering a work culture that provides a personalized career experience. The firm provides the infrastructure and resources to give employees the ability to customize their careers based on their aspirations, and the opportunities to grow into leadership. To support employees' success at work and at home, the firm offers flexible work options, including remote and hybrid work schedules. Dannible & McKee also offers comprehensive healthcare and wellness programs to encourage a healthy lifestyle, and they provide generous paid time off throughout the year to allow employees time to disconnect and recharge.  Accountants receive CPA exam support, and all employees benefit from continuing education programs, 401K plans and a business casual work environment.
"I was thrilled to receive the notification that our firm once again was named one of CNY Business Journal's Best Places to Work, and I am proud to be part of this spectacular team," said Jennifer Whalen, Marketing Director. "Our leadership places a strong emphasis on building camaraderie among staff members—investing time and resources to celebrate promotions, recognize birthdays and unwind from work with happy hours, trivia challenges, virtual paint and sip and sports teams."
Dannible & McKee employs over 100 professional and support personnel, including 20 partners. About 45% of Dannible & McKee's full-time employees have been with the firm for 10 years or more, with 18% for more than 20 years and 10% for over 30 years. Long employee tenure is a testament to Dannible & McKee's investment in their work culture and team members.
To learn more about Dannible & McKee's culture and career opportunities, please visit Dannible & McKee Careers.
About Dannible & McKee, LLP
Established as a partnership in 1978, Dannible & McKee, LLP is committed to providing the highest level of professional services in the areas of audit, tax, accounting and financial management consulting services to clients nationwide. The firm focuses on major industry lines and specializes in multi-state taxation review, business valuation, litigation support and fraud prevention and detection. With offices in Syracuse, Albany and Binghamton, New York, the firm employs over 100 professional and support personnel, including 20 partners. Dannible & McKee was the first CPA firm in the region to join the Association of Certified Fraud Examiners (ACFE) and is a member of Geneva Group International (GGI), an international network of independent professional firms committed to providing clients with access to expanded resources and professional expertise in the international marketplace.