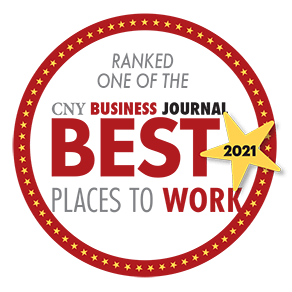 Dannible & Mckee Named One of Central New York's Best Places to Work in 2021
6.1.21
Dannible & McKee, LLP, a certified public accounting and consulting firm with offices in Syracuse, Albany and Binghamton, New York, has been recognized for the second year in a row, as one of Central New York's Best Places to Work in 2021.
Presented by BizEventz, in collaboration with the CNY Business Journal, this prestigious award recognizes workplaces in Central New York, as voted on by the people who know them best – their employees. The award is based upon a confidential satisfaction survey that asks for employees' feedback on job satisfaction, business culture, company benefits, leadership and more.
"We are extremely proud of our employees' positivity and all they have done to help maintain the culture of putting clients first during this trying time," said Michael J. Reilly, CPA/ABV, CVA, CFF, CDA, managing partner at Dannible & McKee, LLP. "While 2020-2021 presented several challenges, our employees seamlessly transitioned to a work-from-home atmosphere and continued to provide the services and support our clients have come to expect. I want to thank all of our employees who truly went above and beyond this year."
With a culture that is deeply rooted on "people first," Dannible & McKee is highly focused on supporting and investing in the development of powerful employees. The firm provides the infrastructure and resources to give employees the ability to customize their career and the opportunities to take it to the next level. To support employees' success professionally and personally, Dannible & McKee offers flexible work options and paid time off throughout the year.  The firm also offers comprehensive healthcare and wellness programs to encourage a healthy lifestyle, as well as CPA exam support, continuing education program, 401K plans and a business casual work environment.
At the heart of the firm is their employee and community engagement. While social distancing and remote work environments due to the pandemic made this more challenging, the firm took steps to develop innovative virtual events and gatherings that were successful in bringing employees and members of the community together.  The firm was even able to hold their holiday gathering virtually with huge success, bringing an evening of comradery fun for employees, as well as their families.
Dannible & McKee employs over 95 professional and support personnel, including 19 partners. About 45% of Dannible & McKee's full-time employees have been with the firm 10 years or more, with 18% for more than 20 years and 10% for over 30 years. Long employee tenure is a testament to how Dannible & McKee treats its team members.
To learn more about Dannible & McKee's culture and career opportunities, please visit the Dannible & McKee Careers page at https://www.dmcpas.com/careers/.