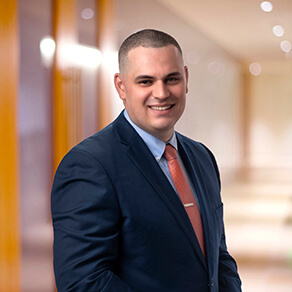 Samuel Lyon Joins LAUNCH Board of Directors
9.21.21
Dannible & McKee, LLP, a certified public accounting and consulting firm with offices in Syracuse, Albany and Binghamton, New York, is pleased to announce that Samuel M. Lyon, CPA, has joined the board of directors at LAUNCH.
LAUNCH, an organization that supports individuals with cognitive deficits in Onondaga County, helps over 400 people a year. Lyon will join 11 other directors providing strategic guidance and fiscal oversight for the organization.
"Sam's expertise in accounting and fiscal management will be an asset to the board as well as the agency as a whole," said LAUNCH Executive Director Paulette Purdy.
Lyon is a tax manager at Dannible & McKee, LLP, and has over six years of experience in taxation and planning for individuals and closely-held companies. He is responsible for overseeing tax engagements for a variety of clients with a focus on architecture and engineering, professional services, multi-state corporations and high net worth individuals. Lyon is also involved in the firm's business valuation and succession planning services. He is a member of the American Institute of Certified Public Accountants (AICPA) and the New York State Society of Certified Public Accountants (NYSSCPA). Lyon graduated cum laude in 2014 with a bachelor's degree in accounting and in 2015 with a master's degree in business administration from Le Moyne College. He resides in Syracuse, New York.
 About Dannible & McKee, LLP
Established as a partnership in 1978, Dannible & McKee, LLP is committed to providing the highest level of professional services in the areas of audit, tax, accounting and financial management consulting services to clients nationwide. The firm focuses on major industry lines and specializes in multi-state taxation review, business valuation, litigation support and fraud prevention and detection. With offices in Syracuse, Albany and Binghamton, New York, the firm employs over 95 professional and support personnel, including 20 partners. Dannible & McKee was the first CPA firm in the region to join the Association of Certified Fraud Examiners (ACFE) and is a member of Geneva Group International (GGI), an international network of independent professional firms committed to providing clients with access to expanded resources and professional expertise in the international marketplace. The firm has also been recognized as one of Central New York's Best Places to Work in 2020 and 2021.