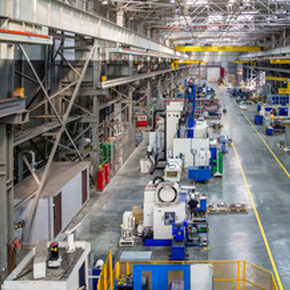 Year-End Physical Inventory
12.10.18
As the end of the calendar year quickly approaches, one thing on all your minds is year-end physical inventory.  This can be a major undertaking and disruption for some businesses, however, with the right planning and implementation of the proper procedures, many headaches can be avoided.  While most businesses have inventory management software, a year-end physical count is important to detect shrinkage and to identify any weaknesses in your inventory management.
Plan Ahead
Having a successful year-end physical inventory will rely on planning and involvement of various levels of management.  It is important that the accounting department and facilities department work together to devise a written plan.  The employees performing the count should be provided with the instructions prior to the physical inventory date to ensure everyone understands the plan.  During the physical inventory, your facility should be shut down with no production; therefore, careful consideration should be made in selecting your count date and how many days will be required.  A walkthrough of the facility prior to performing the count should also be scheduled to ensure the areas are clean and organized.  Items that are identical should be moved to the same location or, at least, identified to ensure an accurate grand total.  If your inventory has volume conversions for items in bulk, the procedures for measuring those items should be relayed to the employees to ensure consistency.
It may be beneficial to divide your facility into various sections and assign a team of employees to each section.  An inventory clerk should be made accountable to distribute, collect and track inventory count sheets and tags throughout the physical inventory.
In order to save time on the day of the physical inventory, a pre-count of inventory could be performed several days in advance for items that are already in sealed containers and not needed in production.
Taking the Physical Inventory Count
It is important at this point that all facility activities are frozen, and any receipt of goods must be segregated to not be included in the count.  All movement of inventory should be on hold and, if a certain production area needs to be started, it is communicated in the plan to all employees.  A two-person count team is recommended as one employee will count the inventory and the other record the count tag.  Inventory tags should be placed on the items counted to avoid duplication.  To improve accountability, we recommend a recount of samples in each section by a supervisor.
The Results
Once the physical inventory is complete, it is important for variances to be identified and potentially recounted.  A walkthrough of the facility must be performed by a supervisor to ensure all areas have been counted.  The inventory clerk should ensure all tags have been accounted for. This is the time to identify, write off and dispose of any unwanted inventory that is tying up warehouse space.  Utilize your year-end physical inventory results to help you understand your business and potential areas of weakness.  Dannible & McKee, LLP can work with your company to help you improve and streamline your inventory process and to identify areas to improve efficiencies.